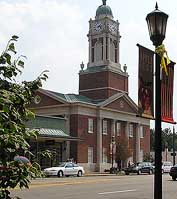 City of Lebanon Municipal Building
City / County Municipalities
VISTA Consulting is a specialty consulting firm with vast experience in understanding City and County Municipalities and their unique challenges in today's world.
Few sectors of our society deal with such a broad spectrum of issues as local governments. The need for expanded service delivery has never been greater, and the call for fiscal responsibility never louder. Decaying infrastructure, unfunded mandates, reduced federal and state revenues all place tremendous pressure on budgets, and VISTA has proven solutions to help combat these unique obstacles.
VISTA FOCUSES On:
Processes that are

FREE

and Require NO Upfront Capital!
Full Budget Analysis by Tenured Experts in Government Fiscal Responsibility
Offerings Endorsed by State Agencies like DAS, and OFCC
Exclusively Designed Solutions to Meet YOUR Needs
Results that are 100% Guaranteed!
PROGRAMS That:
Positively Impact Your Economic Development
Create Improved Comfort, Healthy Environments, and Safe Operations
Provide Unique Energy Savings Performance Contracting Options
Increase Sustainability
Provide Wireless Meter Reading Across All Delivered Utilities
Extend Energy Solutions to Residents & Businesses
Reduce Costs Across All of Your Budgets
Deliver Low and Sometimes 0% Financing Options
Enhance Technology and Data Systems
Guarantee Results 100%
We understand the procurement options for Municipal organizations, and can help you navigate the most advantageous approach. Our group is completely Vendor and Manufacturer Neutral to ensure the best solutions. We work with the best/most appropriate equipment providers and contractors - lending a strong desire to include local companies - to ensure the best program support for your facilities.
From matching specialized grants to ongoing maintenance support, VISTA is positioned to help your local government improve your bottom line finances while enhancing community performance and expanding your economic development.
Ask us how we can make a difference for you! Show Me More